LLB in Law (graduate programme)
Home ›
LLB ›
LLB in Law (graduate programme)
Program Description
This two-year course is for you if you already have an undergraduate degree in a non-law subject. The course provides you with the opportunity to learn about the law, both in the traditional sense of 'thinking like a lawyer' and in the broader sense of law as a social institution.
This is a Qualifying Law Degree* which enables you to progress directly to the vocational stage of legal education should you wish to qualify as a solicitor or barrister in England and Wales. It's also recognised in a number of other jurisdictions.
You'll cover the seven foundations of legal knowledge and develop your legal research skills. A wide range of optional modules will also enable you to follow your interests in specialist legal areas such as company or employment law, human rights law, environmental law and family law. You could also explore topics in criminal justice and criminology, such as policing or youth crime.
Accreditation
All our LLB courses are currently accredited by the Solicitors Regulation Authority (SRA) and the Bar Council*
Exemptions
This programme leads to a Qualifying Law Degree*, which allows you to obtain a maximum exemption from the academic stage of training of both the Bar Council and the Law Society of England and Wales. This allows you to progress directly to the vocational stage of training.
*The Solicitors Regulation Authority is proposing changes to the system from 2021.
Course content
In your first year, you'll take a set of compulsory modules that develop your knowledge of key aspects of law, such as contract and criminal law. The Foundations of Law module is an intensive, front-loaded module designed to prepare you for the demands of studying law at the undergraduate level, and includes substantive content as well as practical skills such as group work and mooting.
You'll continue to study compulsory modules in the following year, expanding your knowledge and focusing on topics such as EU law and equity and trusts. At the same time, you'll select from optional modules giving you the chance to focus on topics that suit your own interests and career plans. This could mean you choose to focus on family law, human rights, company law or the legal systems of different European countries among others.
To demonstrate the knowledge and skills you've gained throughout the course, you'll also have the option to complete a dissertation - an independent piece of research on a legal topic of your choice.
Course structure
The list shown below represents typical modules/components studied and may change from time to time.
Modules
Year 1
Compulsory modules
Contract Law
Foundations of Law
Constitutional and Administrative Law
Criminal Law
Year 2
Compulsory modules
European Union Law
The Law of Trusts
Land Law
Torts
Optional modules (selection of typical options shown below)
You will choose 40 credits from the list below:
Company Law
International Human Rights Law
Employment Law
Family Law
Researching Law
Cyberlaw: Regulation of Information Society
Evidence
Gender and the Law
Intellectual Property: Commercial and Marketing Assets
Commercial Law: Commercial and Consumer Sales
Mass Atrocities and Criminal Justice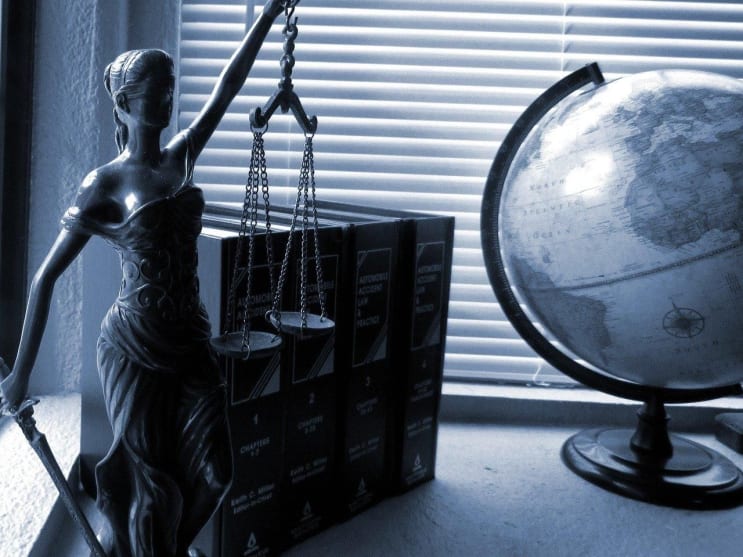 jessica45 / Pixabay
Broadening your academic horizons
At Leeds we want you to benefit from the depth and breadth of the University's expertise, to prepare you for success in an ever-changing and challenging world. On this course, you broaden your learning through core and/or optional modules.
Learning and teaching
One of the key aims of this course is to teach you to "think like a lawyer", but we also help you develop the transferable skills that allow you to use and apply the law in different situations.
You'll learn through traditional methods such as lectures, tutorials and seminars, supported by materials and exercises provided online through the Virtual Learning Environment (VLE). In your first year, the Foundations of Law module will prepare you for the study of law and allow you to gain practical skills such as group working and mooting.
This is a demanding course geared towards self-motivated and independent learners, so you'll spend most of your time in the independent study doing research and preparatory reading. We have excellent library resources with over 50,000 volumes in the Law Library, in addition to extensive electronic access to legal materials and journals.
Assessment
To help you develop a variety of skills you will need in your future career, we assess modules using a range of different methods. These include seen and unseen exams, coursework, group work and oral participation e.g. in discussion groups.
Entry requirements
A-level: A bachelor degree with a 2:1 (Hons) in a non-law subject.
English language requirements
IELTS 6.5 overall, with no less than 6.0 in any component.
Career opportunities
The LLB Law (graduate programme) provides students with the foundation to go on and qualify as a lawyer in England and Wales and gain transferable skills which are recognised in a number of jurisdictions. International graduates wishing to practise in their home country may need to attain some further country-specific training.
As a student in the School of Law we will provide you with a host of opportunities to help boost your career prospects; from developing skills in mooting and negotiating, hearing from prospective employers at specialist talks or career fairs or taking part in career mentoring. The support you will receive at the School of Law will help you kickstart your career, whether in law or another field.
Careers support
We encourage you to prepare for your career from day one. That's one of the reasons Leeds graduates are so sought after by employers.
Leeds for Life is our unique approach to helping you make the most of University by supporting your academic and personal development.
The Careers Centre and staff in your faculty provide a range of help and advice to help you plan your career and make well-informed decisions along the way, even after you graduate.
Last updated Jan 2020
About the School

Our wide range of research-informed courses encompass undergraduate, taught postgraduate and research degree programmes, as well as online and professional development courses.
Our wide range of research-informed courses encompass undergraduate, taught postgraduate and research degree programmes, as well as online and professional development courses.
Read less